What is the process flow of water transfer printing technology?
Author: Site Editor Publish Time: 2021-05-17 Origin: Site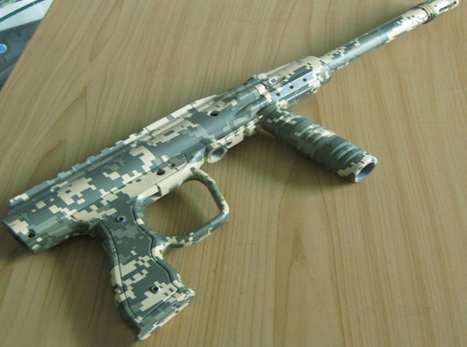 What is the process flow of water transfer printing technology? Make water transfer flower film → flower film soaking → pattern transfer → drying → finished product. The following points:

1. The production process of water transfer film: computer processing according to the desired pattern, and then output the negative film to make a printing plate, and then perform various color patterns on the water transfer bottom paper (the paper after the special treatment does not need to be processed) For printing, the cover oil is printed on the base paper with the printed pattern. Another method is to use a color laser printer to directly print the pattern on the water transfer base paper and then directly perform the water transfer.
2. Soaked in flower film paper. Put the printed floral paper into the water, soak in water for 30 seconds, then remove it from the water, and wait for it to be smooth. Note that the time of soaking in water should not be too long, otherwise it will dissolve the glue on the film paper.
3. Graphic reposting. The surface of the product to be reposted is treated, and then the soaked floral paper film is reposted on the product so that it can be permanently combined with the surface of the product. Scrape off excess water and dry.
4. Dry. Put metal, ceramic, glass and other types of objects in the oven and bake for 20-25 minutes at 140-145 degrees; for plastic products, adjust at 60-70 degrees and bake for 60 minutes; candles, helmets or tempered glass may not be baked.
5. Finished product. Spray a layer of transparent varnish on the surface of the baked product and dry it for 11-12 hours.