What processing needs to be done after the transfer and covering of the graphics and text?
Author: Site Editor Publish Time: 2021-05-17 Origin: Site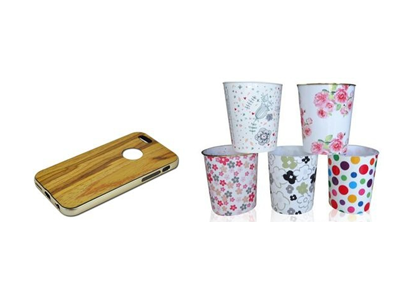 The following steps should be carried out after the transfer and covering of the graphics and text:

①Clean up Take the workpiece out of the sink, remove the remaining film, and then wash off the floating layer that is not fixed on the surface of the product with clean water. Note that the water pressure should not be too high, otherwise it will easily damage the transferred graphics.
②Drying Remove the moisture on the surface of the product to facilitate the complete drying of the transfer ink layer; in order to increase the adhesion fastness, you can use a hair dryer to dry, or you can put the product in a drying box to dry. The drying temperature of plastic products should not be too high, about 50-60 ℃, too high temperature will easily deform the substrate; the drying temperature of metals, glass, ceramics and other materials can be appropriately increased.
③Spray protective paint In order to enhance the resistance of the graphic layer to the environment, it is necessary to spray paint on the surface. The spray paint can use solvent-based varnish, which can be dried naturally or heated after spraying; it can also be UV varnish, which can be cured and dried by ultraviolet light. In contrast, UV curing is more suitable for environmental protection requirements.
Tips for water transfer printing process:
①Because the surface primer of helmets and other products will have different colors, in order to better reflect the color of the pattern, generally use white as a primer before printing each color ink;
②Ink and gold oil must be adjusted separately with their own matching diluents, the general dilution ratio is 5%~8%;
③Select different types of gold oil according to the temperature or climate, and adjust the softness and toughness of the film in time according to the situation that occurs during the reposting process;
④In principle, the printed products are best sealed and packaged, and the service life should not exceed 6 months.